Bill Skarsgård

General Information

Full Name

Bill Istvan Günther Skarsgård

Birthdate

August 9, 1990

Birthplace

Vällingby, Sweden

Imdb Profile
Portrays
Season(s)

Bill Istvan Günther Skarsgård (born August 9, 1990) is a Swedish actor, best known for his roles in It, Hemlock Grove, Simple Simon, and Atomic Blonde.
Skarsgård was born in Vällingby, Sweden, and is the son of actor Stellan Skarsgård and his first wife, My Skarsgård. He has seven siblings: Alexander, Gustaf, Valter (all actors), as well as Sam, Ossian, Kolbjörn, and Eija. Ossian and Kolbjörn are half-brothers from a later marriage between Stellan Skarsgård and Megan Everett.
In 2011, Skarsgård was nominated for a Guldbagge Award for his leading role as Simon in Simple Simon. At the age of 21, he won the European Film Academy's Shooting Stars Award in 2012.
In April 2014, Skarsgård featured on the cover of Hero – a bi-annual men's fashion and culture magazine, shot by Hedi Slimane. In the issue, he is interviewed by his father.
Skarsgård played Matthew in the science fiction thriller The Divergent Series: Allegiant (2016), his first major American film.
Skarsgård played horror villain Pennywise the Dancing Clown in the 2017 film It, and is scheduled to reprise his role in the sequel in 2019. His role was met with praise from fans and critics alike. In July 2017, it was announced that Skarsgård had been cast as a series regular in Castle Rock as a young man with an unusual legal problem.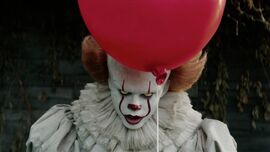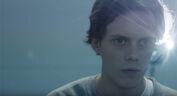 Filmography
Edit
White Water Fury (2000)
Arn - The Kingdom at Road's End (2008)
Kenny Begins (2009)
Simple Simon (2010)
Behind Blue Skies (2010)
The Crown Jewels (2011)
Simon & the Oaks (2011)
Anna Karenina (2012)
Victoria (2013)
The Divergent Series: Allegiant (2016)
A Stone Appears (2016)
Atomic Blonde (2017)
It (2017)
Battlecreek (2017)
Moomins and the Winter Wonderland (2017)
Assassination Nation (2018)
It: Chapter Two (2019)
Emperor (TBA)
Television:
Edit
Laura Trenter (2002)
Livet i Fagervik (2009)
Hemlock Grove (2013-15)
Castle Rock (2018)