Nicolae Rumancek

Biographical Information

Species
Status

Deceased

Relationship Information

Relatives

Character Information

Portrayed By
Season(s)
First Appearance
Last Appearance
| | |
| --- | --- |
| " | They are things that look like you and me but they are not... clothes, smile, beating heart these things are only mask hiding the creature beneath but the eyes, they show themselves with their eyes... there is such darkness that it shines. |
Nicolae Rumancek was a vargulf, the father of Lynda and Vince Rumancek and the grandfather of Destiny and Peter Rumancek.
The Angel - Nicolae is first seen in a flash-back of Peter's when he told Peter that upirs are monsters.
In Poor Taste - A flashback is shown of a young Peter at his grandfather Nikolai's funeral, cutting off Nicolae's head to prevent him from returning from the dead as a Vargulf, as crazy as ever.
The Price - Peter flashes back to when Nicolae tells him about Magdalena, and how he tried to protect her from Nazis. Unfortunately, an Upir had mesmerized Magdalena, forcing her to rip at Nicolae's throat. He ran away, leaving her behind.
Personality
Edit
Nicolae was a very wise man who had been through a lot in his lifetime. at a young age Nicolae was very brave in an attempt to protect an old woman.
Appearance
Edit
Young Age
When he was young, Nicolae was a boy of about medium height, with wild brown hair and blue eyes.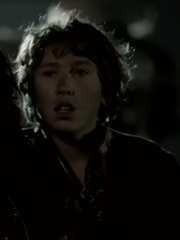 Old Age
In his old age, Nicolae is a tall male with long white hair and blue eyes.
Relationships
Edit
Peter Rumancek: Peter was considered to Nicolae's favorite grandchild. After Nicolae's death, Peter was the one to cut off his head so that Nicolae would not rise from the dead.
Magdalena: As a boy, he used to ride from place to place with an old woman named Magdalena. One day they were stopped by a group of Nazis, one of whom was an upir. Nicolae stayed close to Magdalena thinking he could protect her. The upir then mesmerized Magdalena to rip out his throat but he ran away never knowing what happened to Magdalena.
Powers & Abilities
Edit
Weaknesses
Edit